In January 2019 Nicola launched "With Nicky", an online series of educational videos that intends to provide information, guidance, and support for young musicians throughout their musical and personal development. The content of these videos will become an integral part of the work of the Benedetti Foundation and will also provide useful information for teachers looking to support their work with new ideas.
"With Nicky" will eventually cover a broad range of questions and themes, but naturally these first videos focus on Nicola's own instrument – the violin. Nicola delivers workshops, masterclasses and educational activities throughout the year, but time is always limited and the desire for follow-up materials when the classes come to a close is ever growing.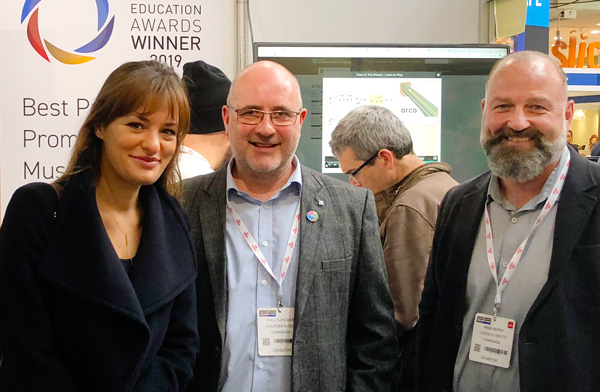 At the recent Music & Drama Expo, Charanga and Nicola Benedetti announced a partnership to bring the inspirational "With Nicky" educational video series to Charanga's digital music education platform and their huge network of music teachers, schools and pupils.
The series will be hosted on Charanga.com and will be available to everyone, wherever they are with no requirement to register or to be a Charanga subscriber.
Charanga teachers will also be able to incorporate the videos into their lessons and "With Nicky" will feature prominently inside the Charanga platform.
Charanga will also be providing exciting resources to support the next phase, "Presentation and Performance".
The Videos
About Nicola Benedetti
Over the last 12 months Nicola has continued her role as a dedicated, passionate ambassador and leader in music education:
Nicola has reached over 2000 young people through workshops, masterclasses, partnership projects, and school visits.
Nicola has also connected with over 500 teachers, providing support in the face of mounting pressures, and encouraging best practice.
This commitment to supporting music practitioners was underlined in July 2018, when Nicola took over as President of the European String Teachers Association.
Nicola has contributed to campaigns to save and preserve music services across the country.
She holds named positions in several of the UK's most established and high-quality youth music organisations including the National Children's Orchestras, Sistema Scotland, National Youth Orchestras of Scotland, Music in Secondary Schools Trust, Royal Conservatoire of Scotland and many more.
Music education work has been delivered across Scotland and from Leeds to London. Forthcoming events in Birmingham and Wales will further widen Nicola's connections.
As 'Big Sister' to Sistema Scotland, Nicola led Super String Sessions in Autumn 2018, celebrating the organisation's 10th anniversary by bringing together 500 young people from a diverse range of learning backgrounds including through Sistema Scotland, local authorities and private tuition.
Fiercely committed to music education and to developing young talent, Nicola has formed associations with schools, music colleges and local authorities.
She is credited with broadening the appeal of Classical music to young and new audiences through her extensive education work and appearances at events such as the Commonwealth Games Opening Ceremony and iTunes Festival.
Nicola was awarded the Queen's Medal for Music in 2017, the youngest ever recipient, and was appointed a Commander of the Most Excellent Order of the British Empire (CBE) in the 2019 New Year Honours, in recognition of her services to music.
Nicola Benedetti is one of the most sought after violinists of her generation. Her ability to captivate audiences with her innate musicianship and dynamic presence, coupled with her wide appeal as a high-profile advocate for Classical music, has made her one of the most influential Classical artists of today.
She is in much demand with major orchestras and conductors across the globe and this continues across the 2019 season with concerts throughout the UK, Europe and America.